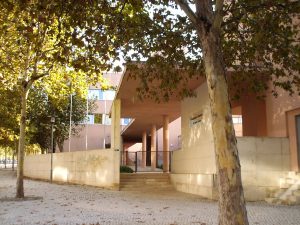 The Residência Eng. Duarte Pacheco has been operating since November 1998, and its key features are as follows:
Capacity – 153 single rooms and 36 double rooms of the total of 225 vacancies.
Rooms (189) – With private bathroom and equipped with bed, desk, wardrobe, and internet access.
Kitchens (9) – There is one per floor and each one has two refrigerators, a freezer, a glass ceramic hob, a microwave, Cable TV and individual lockers.
Common areas –1 living room with cable TV (Zon TV program) as well as free wireless Internet network, 1 games room and 2 study rooms.
Facilities:

24 hours reception.
Washing machine –  1,50 € /per load
Dryer Machine –  1,50 € /per load
Locker – 5,00 € /per month
Parking Garage

Cars –  30,00 € /monthly
Motorcycles – 10,00 € /monthly

Price List for the academic year of 2019/2020.

Single room- 185,00 €
Double room/each occupant- 155,00 €

Obs: The monthly installment includes the supply of bed linen and towels, and its weekly replacement, in addition to the supply of pillows, blankets, comforters and / or quilting, and also the Internet access – network IST (in the room). [To enjoy this service in the residents must provide their own RJ45 network cable.]

Apply for accommodation: online application form.