The Residência Universitária Baldaques has been operating since march 1998 and its key features are as follows: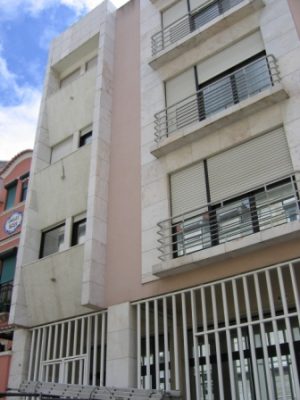 Capacity: 12 single rooms, 6 double rooms (double bed), 1 suite (double), and a T0 apartment (studio room), distributed on 4 floors, accessible by elevator, in a building of 6 floors, including garage.
Rooms – Equipped with bed, desk, wardrobes, TV and telephone (with direct access to/from overseas). From the 1st to the 3rd floor, there are 4 single rooms and 2 double rooms per floor. Each floor has 2 full bathrooms and 1 kitchen.
Kitchens – Each kitchen has two refrigerators with freezer, a hob and oven, a dishwasher machine, a microwave, a toaster, diverse tableware, and cabinets. On the 4th/top floor there is the T0 apartment, (double bedroom, living room with kitchenette, bathroom and terrace) and the Suite (double bedroom, bathroom and terrace).
Note: The monthly payment includes the supply of bed linen and towels, and its weekly replacement, in addition to pillows, blankets, comforters and / or bedspreads, as well as daily (weekdays) cleaning of rooms and common areas.The access to Cable TV (Zon Cable TV Programmes) and the wireless network is available in each room.
Social Areas: Living room and study room with access to Cable TV and Wireless Internet network located on the ground floor, at the main entrance  of the Residence.
Designed for: Accommodation of phd students, teachers and researchers of IST.
Services provided – see Residência Universitária Baldaques Regulations (PDF, 292KB)
Price List – see Price List_RUB 2020 (PDF, 233KB)
Booking/Reservations – must be made by a teacher of IST, by fax or e-mail to the Accommodation Office.